PRESS RELEASE  UPDATED: JUL 19, 2017 12:00 EDT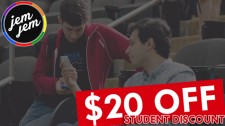 Newport Beach, CA, July 19, 2017 (Newswire.com) - As the new academic year is approaching, students will be able to save up to $20 on the price of a Refurbished Apple product, when purchasing it from JemJem.com. Helping students make those pennies go a bit further, JemJem has released a special discount of extra $20 on refurbished apple products for students.
From 19th July 2017, students could benefit from a massive $20 off the price of any product; using a special Coupon Code- JEMSTU20. To qualify for the discount, any student currently enrolled in a higher school or university needs to sign up with his/her .edu email address, owing to which he will be awarded a special coupon code for additional $20 off. It will expire at the end of August. It can only be used 1 per customer. Minimum purchase required is $50. Please visit: https://www.jemjem.com/pages/special-discount-for-students
"We at JemJem take pride in the quality and condition of the products we sell. Every product we sell ensures full functionality and a 90-day warranty. We have been a prominent name in the industry, thus gaining the title of the largest online retailer of refurbished apple products," said Jay Kim, JemJem's CEO.
With a number of students gearing up for the big move to university next month onwards, most will be thinking about using fractions of their student loans or savings to buy a trusty laptop or a new phone. But for the ones who cannot afford a brand new product, we want to provide them the refurbished alternatives that offer the same high specifications, yet achievable at a much cheaper cost. Thus an additional discount of $20 will be offered to the aspirants
About JemJem
JemJem is a trusted Internet resource for refurbished and pre-owned Apple products. With an inclusive quality check process, expert product knowledge, and unparalleled customer attention, this is the safest place to purchase secondary apple products. Every refurbished product or accessory sold by the company goes through a certification process that ensures full functionality and comes with a 90-day warranty. You can visit the website at: https://www.jemjem.com.