Apple officially announced that its next big iPhone event will take place on October 13th. Here's what to expect.
Apple officially announced that its next big hardware event, where we're expecting a number of new iPhones to be announced, will take place on October 13 at 1pm EST. The event is titled "Hi, Speed," which we're guessing eludes to the fact that the iPhone 12 — in all its expected forms — will support 5G, making them the first 5G iPhones. Here's all the other things we know (and think) about Apple's next-gen iPhones.
Yes, it'll be called the iPhone 12.
We already know that Samsung skipped nine generations of smartphones when it jumped from the Galaxy S11 to the Galaxy S20 in one year. It's a clear play to sound better than all other new smartphones, but it's unclear if Apple will attempt to shake up its naming scheme too. There's little in the way of specific rumors on this topic, but given that Apple already took the plunge on numbers above ten with the iPhone 11, we're guessing an iPhone 12 is likely.
There will be four different iPhones.
Following last year's approach, we'd expect that the next batch of iPhone's would be called the iPhone 12, 12 Pro and 12 Pro Max, but there's strong speculation that Apple is going to announce four new iPhones, not three. According to the rumors, the spread would include a 5.4-inch iPhone (smaller than the 5.8-inch iPhone 11 Pro) and a 6.7-inch iPhone (larger than the 6.5-inch iPhone 11 Pro Max), along with two 6.1-inch iPhones (the same size as the vanilla iPhone 11). To further these rumors, a hidden code in the latest iOS 14 beta update hints at a 5.4-inch iPhone.
There will be two Pro and two affordable iPhones.
Of the four iPhone 12s, rumors indicate two will be premium Pro models and two be more affordable. Given that that iPhone 11 is the most popular and the cheapest new iPhone of the current generation, it makes sense for Apple to try to give its more price-sensitive and numerous customers more options. The theory goes that the large 6.7-inch iPhone and one of the 6.1-inch iPhones will be Pros, with better OLED displays and better camera systems. Meanwhile, the other 6.1-inch iPhone and the 5.4-inch iPhone will be the more baseline models with two-camera systems and LCD displays.
Apple is bringing back the squared edges.
It's a little bit of a long shot, but there could be a big design change to all iPhone 12 models. Apple analyst Ming-Chi Kuo has reported that Apple might bring back the metal frame that was on the iPhone 4. This metal chassis would square off the edges of each new iPhone, like the iPhone 4, and make them a little easier to hold. As of April 2020, the Twitter account @EverythingApplePro appears to have uncovered a leaked CAD file of what is potentially the iPhone 12 with a squared chassis, adding full to this rumor:
We're getting a new camera.
With all the different iPhone 12 models expected to be announced, it's difficult to say exactly how all of their camera systems will be different. For the flagship models, however, it's been reported by Fast Company that they'll have a 3D depth camera in their rear-camera systems for the first time. Apple has had depth a camera in its iPhone's front-camera systems for a few years, enabling them to unlock via Face ID and to turn your face into an Animoji. In the rear camera system, a new depth camera is expected to add a few photo and video features/effects, such as better bokeh and focus, but you'll see the majority of the benefits while using augmented reality apps. Apple is continuing to build out its catalog of AR apps (It's been three years since Apple rolled out ARKit to developers.)
PetaPixel also recently reported that the two iPhone 12 Pro models will have an upgraded 64-megapixel sensor, which is a huge leap for Apple considering it'd mark the first time in years that Apple had gone away from the 12-megapixel sensor. Of course, a bigger sensor doesn't always translate to better photos (at least when it applies to a smartphone), but it's pretty exciting to think about an iPhone with a larger sensor.
Apple could kill the notch
Early indications are that the next-gen iPhones are expected to have a smaller TrueDepth camera system in the front. This will enable the notch to shrink down even further into the bezel. Whether the notch is just smaller or gone completely, that obviously remains to be seen.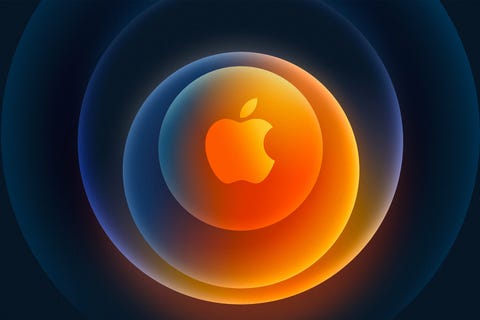 5G seems inevitable.
2020 is primed to be a big year for the rollout of 5G but will the new iPhones support it? The answer is probably yes, given the fact that the event is titled "Hi, Speed," which is an obvious hint for 5G. If so, these will be the first 5G iPhones.
We're getting more powerful chargers.
This year marked the first time that Apple shipped different iPhones with different wattage chargers; the iPhone 11 Pro shipped with 18-watt chargers with power delivery, with the iPhone 11 shipped with standard 5-watt chargers. With the expected four different iPhone 12 models, it seems that Apple will likely continue this trend, with the two Pro models getting the more powerful chargers straight out of the box. A well-known Twitter leaker of Apple news, an account named Mr White, recently posted that these new iPhones are coming with an even more powerful 20-watt charger. We're guessing that these will just be for the iPhone 12 Pro models.
Also, braided Lightning charging cables.
It looks like there's a chance that, with the new iPhones, Apple could include a more durable Lighting charging cable in the box. A number of leaks point to a new Lighting charging cable with a braided construction, as opposed to the standard design that you likely know tends to disintegrate and fray after a while.
Buy used, save big
jemjem makes it safe and easy to save money buying gently used technology for home and family.